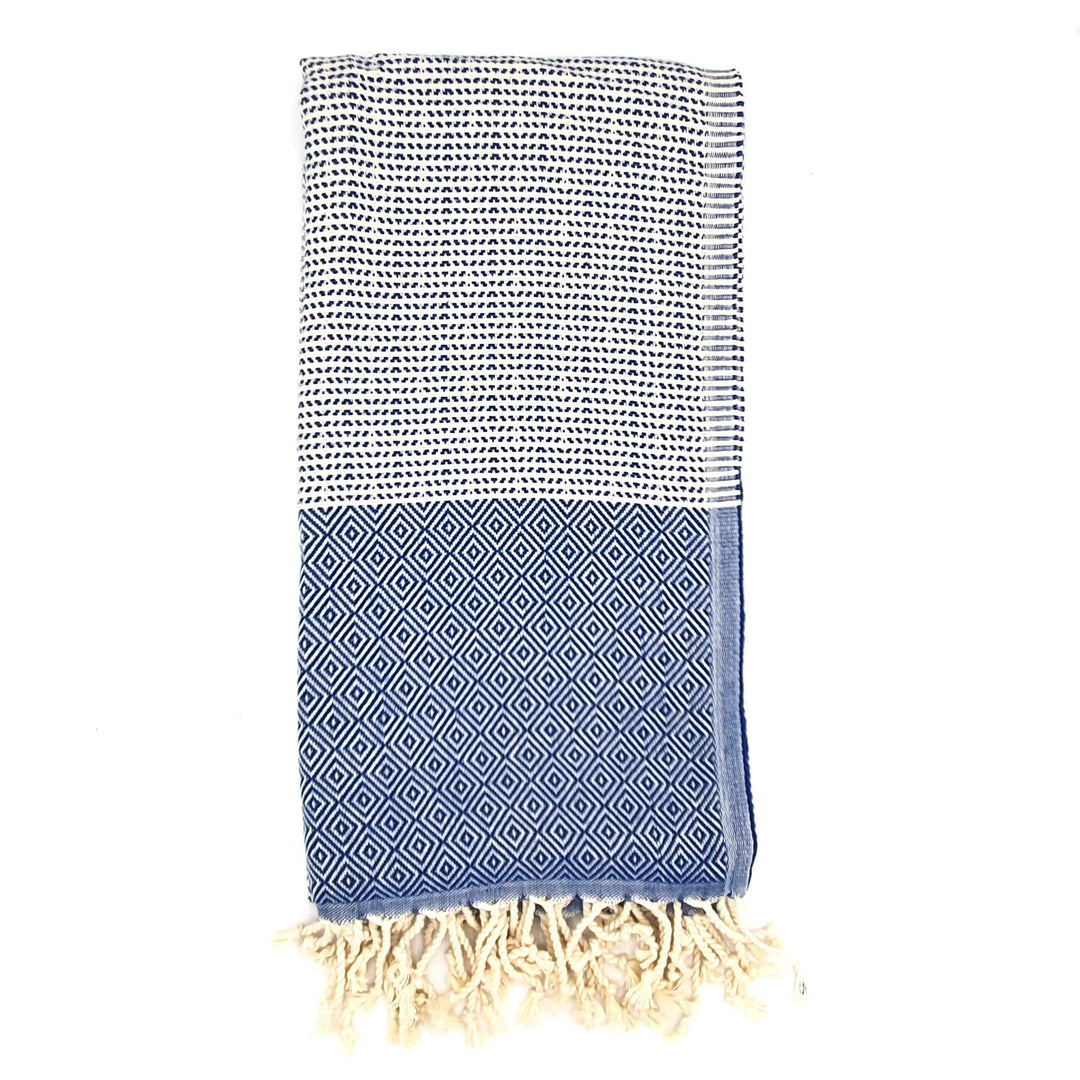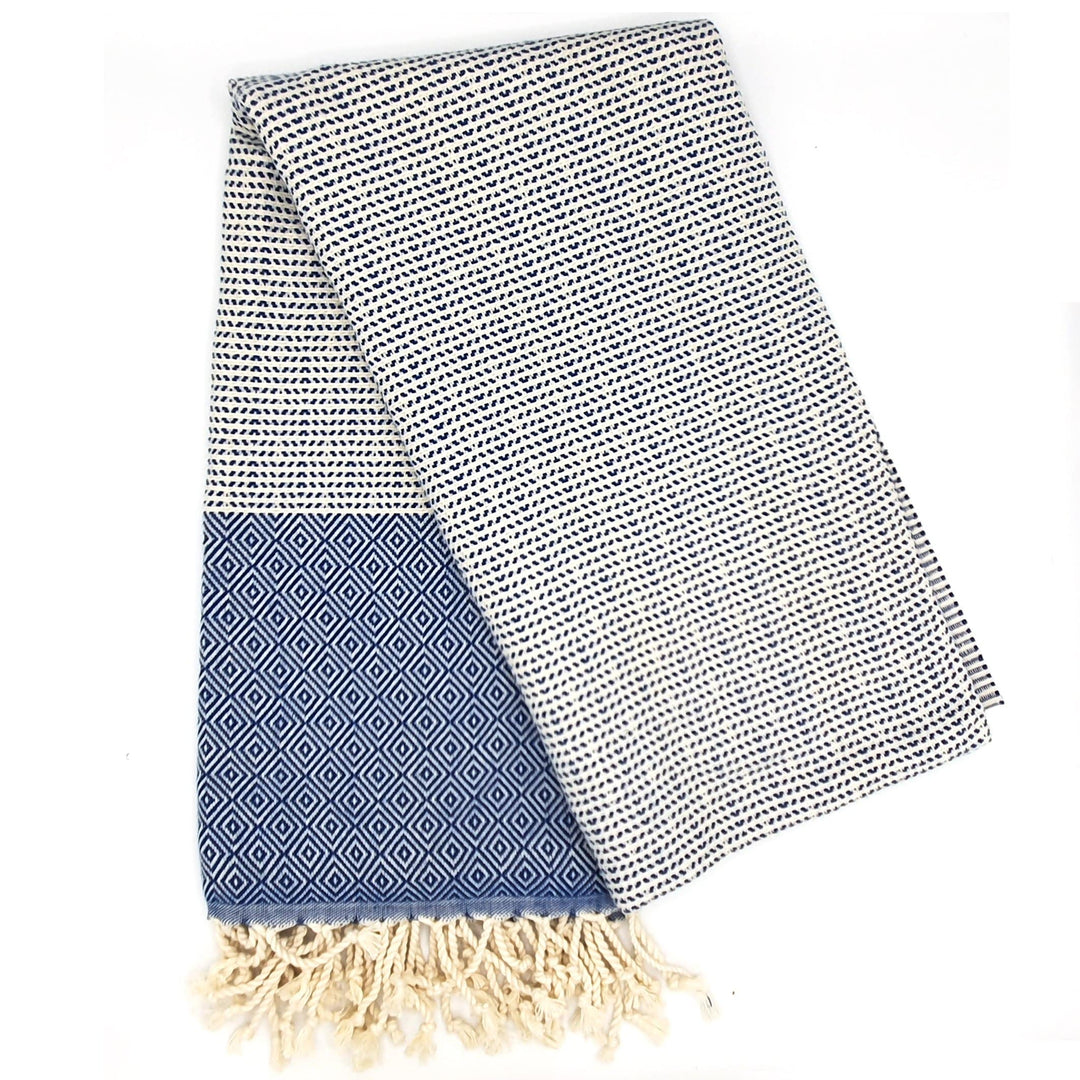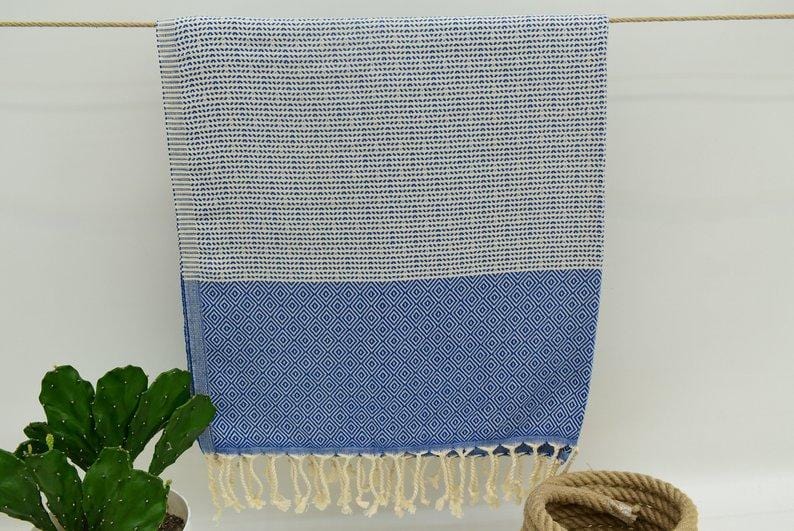 Riza Hammam Towel, Sax Blue
Free extended returns until 10 Jan 2024
Free UK mainland shipping
Gift wrapping option available at checkout
An ethically sourced and artisan made Turkish fouta that is light, compact and quick drying. Made using organic cotton, this practical and high quality towel is very easy to carry and absorbs water quickly. The light blue Riza hammam towel holds its colour well and will soften with every wash. These handwoven towels are sourced directly from the skilled artisans who make them on traditional wooden looms Denizli, Turkey so you can rest assured that each piece is unique and high quality.
Want to travel light? This naturally handmade hammam towel is much lighter than a traditional beach towel and will fold up snugly to fit into any beach bag, rucksack, suitcase or even in your hand luggage.  This eco towel will add a touch of luxury to your bathroom while also fitting as suitably wrapped around your shoulders on an evening out. As a result of it's lovely aesthetic and diverse uses, it makes an ideal eco friendly gift for a loved one or as a wedding gift. 
Organic Turkish Cotton With Natural Tassels
A little love goes a long way!
Delicate care and cleaning of your jewellery will help them to last for years to come.

- When not wearing your jewellery, be sure to store it in its packaging, this helps prevent scratching and maintain colour
- To keep your piece looking its best, gently rub the surface with a polishing cloth
- Always avoid water whilst wearing your jewellery
- Remove your jewellery before bed and when applying scents, lotions and sprays
- Keep your chains fastened when stored to avoid tangling
Learn more from our care and cleaning guide
- Free delivery on UK mainland orders
- We aim to dispatch all orders within 2 working days
- All jewellery orders should be delivered within 2 working days from the date of dispatch
- Next working day delivery (for orders placed before 12pm Mon-Fri) - £4.95
For more information and all international orders please visit our Shipping & Delivery Policy
You can return your order within 30 days of purchase for a full refund. Please see our Returns and Exchange policy for more details.
*Please note that all sizes and weights are approximate by a margin of ≠ 10%. due to the handcrafted production. Minor imperfections and slight variations in colour are also to be expected. This is all part of its charm and why each piece is truly unique*